put our bank in your office®

with MainStreet Bank Connect
MainStreet Connect
MainStreet Connect provides your business solutions to help streamline your business banking needs. Through MainStreet Connect, we Put Our Bank in Your Office® by offering you:
Initiate wire transfers nationwide, pay bills online, transfer funds between accounts, interface with Intuit® or Microsoft® accounting software – and gain greater efficiency in your accounting and finance operations. For accounts payable, build in reminders, customize loan payments and set up regular funds transfers.
With Mobile Banking, you can confirm wire transfers even when you are away from the office. All transactions are rapidly posted, and when you transfer funds, they are immediately available.
Stop payment on a check, and the request is automatically processed. We also offer Direct Deposit (Payroll Services) for businesses that want the ability to electronically pay their employees.
Your customers get more options, and you save time and money. With pre-authorized payment and deposit features, your customers may bypass check processing altogether.
Set your customer up on a repetitive payment plan to transfer set amounts from your customer's bank account at regular intervals. Let customers make automatic clearing house (ACH) payments over the telephone or via the Internet through "Web checks," with lower processing fees than those of credit cards.
Our check scanner combines image capture and automatic clearing house (ACH) technology to bring the bank teller to your desktop – and render your old deposit bag obsolete.
Simply feed checks through the scanner, wait for the image to appear on your computer, and then fill in any missing information fields. Our system reviews, batches and transmits check data to the bank for processing.
Your scanned checks clear in 24 to 48 hours – far quicker than the five or more days that paper checks often need. Returned payments are reported faster, too, increasing collection rates. Plus, scanned data are exported into accounting and database programs for ongoing account management.
If your check volume is high, or if you aren't equipped to process payments, we can handle that for you through our secure lockbox system. Our technology provides you with electronic records of all payments processed, including payment coupon information.
[content at the end of the chart – outside the chart-conclusion paragraph]
MainStreet Bank Connect is a secure online portal that ensures your company's financial data remains uncompromised. We employ stringent firewalls and sophisticated encryption technology. VeriSign 128-bit Secure Sockets Layer (SSL) encryption keeps transactions secure and confidential.
We help you make only those who need data access get it. You control internal access through multi-tiered password protection. Customize the system to your needs and employees' responsibilities. We'll show you how.
Additional products and services available at our branch locations.
MainStreet

blog
introduction to MainStreet Bank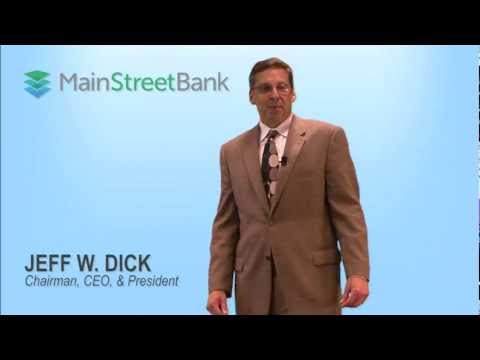 Find a
Branch or ATM
Find a surcharge-free ATM
Download the FREE Allpoint ATM Locator app on your mobile device