faqs
Here are a few questions our Mainstreet banking customers have frequently asked. We thought you may find them useful. If there's a question that has not been answered, please don't hesitate to contact us.
mainstreet bank
Text Mobile is a one-way exchange of information. It allows you to send text requests to view account
information in NetTeller.

Web Mobile provides a two-way exchange of information. It uses your WAP Internet browser on your
cellular device. Using a secure login, Web Mobile allows you to view your accounts, transfer money,
pay your bills to existing payees and view alerts.
You may choose to sign up for both or just for one. With MainStreet Bank's mobile solution, it is your
choice whether you text your requests, securely log in using your mobile browser or utilize both!
The steps are:
Contact MainStreet Bank to sign up for your online banking profile
Log in to Airbanking online
Go to the "Options" Tab
Select Mobile Settings > Web Mobile Settings and/or Text Mobile Settings
Enter your mobile phone number and carrier
Select which accounts to access from your mobile device (create mobile short names when setting
up text mobile settings)
Review enrollment information and check I ACCEPT Full Terms and Conditions
Click to confirm
The Mobile Short Name is for your convenience to access specific accounts via text messages. You
will be asked to create the Mobile Short Names when you set up your Mobile Text Settings in Net-
Teller. The Text Commands are listed and described as follows:
Bal – Returns balance for all enrolled accounts
Bal(account short name) – Returns balance for specified account
Hist – Returns last 4 transactions for all enrolled accounts
Hist (account short name) – Returns last 4 transactions for specified account
Help – Returns command references
Stop – Disables enrollment for text mobile banking
Note: Messages are not case sensitive or require parenthesis. Include the Mobile Short Name in the
text to request information for a specific account.
Each time you make a transfer or bill payment, a confirmation SMS Text Message will be sent to
your mobile device. If you do not receive a confirmation text message, double check to make sure
the transaction went through.
Log in to your Financial Institution's online banking site > Select Options > Mobile Settings >Deselect
Activate Mobile Banking Access > Click Submit.
Since your account data is not stored on your mobile device, your information cannot be stolen.
When you replace your device, simply edit your Mobile Settings and make any changes to the Wireless
Provider and/or Phone Number.
Functionality is limited to sending payments to already established payees. To add a new payee,
log in to the online banking site, select Bill Payment, and add a new payee. You can then submit
payments to that payee via your mobile device.
When you complete a transaction from your mobile device (bill payment, funds transfer, etc.), you
will receive an SMS Text Message as confirmation that the transaction was successful. If you do not
receive this message due to a dropped call or lost signal, check your accounts and re-submit any
transactions that did not process.
If you simply get a new phone, but are using the same phone number and provider, no changes on your
part are necessary. If you switch providers and/or phone numbers, log in to your NetTeller account via
the Internet and update your information on the Options > Mobile Settings page. You will not receive
SMS Text Messages regarding Mobile Banking transactions if your phone number is not correct.
You will only be able to view 15 days worth of transaction history on your mobile device. There is
not a search feature.
Yes. You can access your accounts via any mobile device that is Web-enabled and allows secure
SSL traffic. The only difference is that SMS Text Messages will be sent to the device entered when
enrolling for mobile banking, not any device from which you perform a transaction.
No. You can only add payments to payees already established through your traditional Internetbased
NetTeller ID.
You must log in to the Internet-based NetTeller ID and delete the payment from the main menu of
the bill pay module.
Check your phone's settings to make sure you don't have Alpha-only enabled on the keypad.
There are a number of reasons that you may experience trouble accessing the mobile version of
Internet banking on your phone. To use the mobile version, your phone will need to meet the following
minimum requirements:
You must first enroll through traditional Internet banking before you can gain access.
Your mobile device must be Web-enabled.
Your mobile network must allow secure SSL traffic. (You may need to contact your mobile provider
to determine this.) If your phone meets these requirements and you continue experiencing problems,
the mobile version may not be compatible with your phone's browser. An interim solution would
be to try downloading another browser such as Opera Mini (www.operamini.com), which provides
good support to a number of mobile applications.
You can:
View Transaction History
View Account Balances
Transfer Funds between Accounts (Web Only)
Pay Bills to existing Payees (Web only)
View Alerts (Web only)
MainStreet

blog
introduction to MainStreet Bank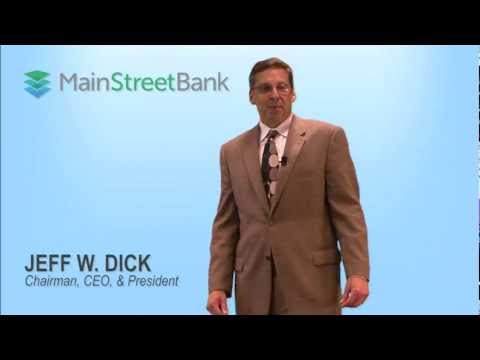 Find a
Branch or ATM
Find a surcharge-free ATM
Download the FREE Allpoint ATM Locator app on your mobile device